Having reached not only puberty but also her majority during the seven-year run of Little House on the Prairie, Melissa Sue Anderson is finally sick of busting sod. At 18, she finds her role as Michael Landon's hopelessly homespun blind daughter holds "no future for me," and next season Melissa Sue refuses to appear in more than three episodes of NBC's highest-rated series. Instead, the actress is looking for additional image-shattering projects like her current big-screen schlocker Happy Birthday to Me, in which she gets to booze, toke, strut around in bra and panties and shove a beef brochette --barbecue fork and all--down the throat of an overamorous boyfriend.
In her personal life, Missy, as pals call her, is also striving to shed the gingham. She moved out of her mother's Burbank condo and is now in her own two-bedroom house in the San Fernando Valley. Then the National Enquirer tagged her as "a borderline alcoholic" whose boozing shortened her romance with Frank Sinatra Jr., 37, and led to erratic behavior on the Little House set.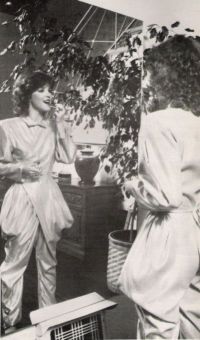 That report, snaps Missy, was "rubbish." She says she met Frank Jr., who is 19 years her senior, in 1979 when they were both guests on a Love Boat segment. "I was just 17, and he was willing to listen to me instead of treating me like a kid. And I could help him when he needed it," she recalls. "We were dating each other alone. Now we see other people too, but I love him, and I know he loves me." Indeed, as proof that she and Junior are also "sort of best friends" in a world where "it's hard to find people you can really count on," Missy says that when she recently cracked up a rented car, "Frank was the first person I called."
As to the ludicrous talk that she's become a little souse on the prairie, Anderson notes that "my favorite drink is Tab. I might have a glass of wine if I'm having a meal with my mom. When we're on location, I get asked by the crew to go down the road for a few beers, and I won't do it-I never drink in public."
What Missy does admit, however, is that the Little House set is not nearly as goody-two-shoes as its scripts. "Everybody always asks if we're just like a family," she says mockingly. Yet in a way, perhaps they are. Missy and Melissa Gilbert, 17, have long had an almost sibling rivalry. The friction understandably increased when Gilbert began picking off plum outside roles like the lead in televersions of The Miracle Worker and The Diary of Anne Frank-and Anderson found herself playing only the blind character, Mary Ingalls. "It's no fun," Missy grumbles. "When they run low on story ideas, someone says, 'What can we do to Melissa Sue that's really awful?' " The answer is plenty. She has already survived scarlet fever, lost her mind briefly, suffered a miscarriage and then borne a baby killed off in a fire.
In addition, Anderson's relationship with Landon is in flux. "Mike was not so much a father figure as a big brother," reflects Missy about the early days. "I think I've grown up, and Michael's whole life is changing-he's making some personal as well as professional decisions," she continues, alluding to the fissures in Landon's second marriage. "I don't see him as much." Nor does Missy necessarily expect his sympathy in her plans to phase out of the series. "He stayed with Bonanza for 14 years," she notes. "If I had been hot like that, I would have gone and done different things while I could. I'm calculating, self-sufficient, reserved and I enjoy being alone," says Anderson. "Staying detached is the only way I can work with people that close and that long and not have arguments. I'm not angry-I just take my career very seriously."

She has for more than half her life. Born in Berkeley, Melissa Sue was 7 when she and older sister Maureen, now 30, moved with their parents to L.A. Soon thereafter a chance meeting with an agent led Missy first to commercials (Sears, Mattel) and then to bit parts on TV's The Brady Bunch and Shaft. She was 11 when Landon cast her in Little House, 13 when her parents divorced; both events drove her further into herself. Though Missy has kept in touch with her dad, James, an Orange County gas station owner, she stayed with her mother, Marion, and was raised Catholic, conservative and scared of social life with her peers. "I don't see how I would have made it in high school," says Missy, who was mostly tutored privately. Marion recalls that at 15 her daughter finally risked a prom date -but because "kids hung around her asking for her autograph, she came home in tears."
Her recent move to her own place, Missy thinks, has strengthened the filial bond--"Mom and I are more like friends now." She adds that she enjoys loafing around the house cooking (mostly chicken) and reading scripts. Like several other young actresses, she passed up The Blue Lagoon, and "didn't regret it. Brooke was beautiful-she went with the scenery -but it wasn't right for me." She adds, though: "I'm not saying I wouldn't do nudity further down the line if it was necessary.".
For recreation, Missy drives her new Mercedes 450SL to a racquetball court or to a gym where she exercises her 5'5" figure on a Nautilus. While Missy still sees Frank Sinatra Jr., she also dates-casually-Oscar winner Tim Hutton and Lorenzo Lamas.
But perhaps the most important man in her life is new manager Jay Bernstein, who in addition to launching Farrah and Suzanne Somers also handles First Daughter Patti Davis. It is on his arm that Missy usually makes the scene. "It's not my personal life," she says, "it's strictly business." Indeed, the strong-willed Anderson gave the hypeloving Bernstein the business early on. "I told him no teen roles, no posters," she recalls. "I don't want what Shaun Cassidy gets. I am a serious actress. I've already played a 22-year-old. Why go backward?"
DAVID GRITTEN
Photographs by Nancy Ellison/Gamma-Liaison