About Melissa Sue Anderson Fan website
Welcome to the Melissa Sue Anderson Fan website! This website was created in 2007. I became a fan of Melissa Sue Anderson around 1975 when I first saw an episode of Little House on the Prairie. I developed a major crush on her and watched everything she was in.
Sometime between 1977 and 1980, I joined Melissa Sue Anderson's fan club. Here is a scan of my membership card.
Here is a button and a pen that was included with the Fan club materials.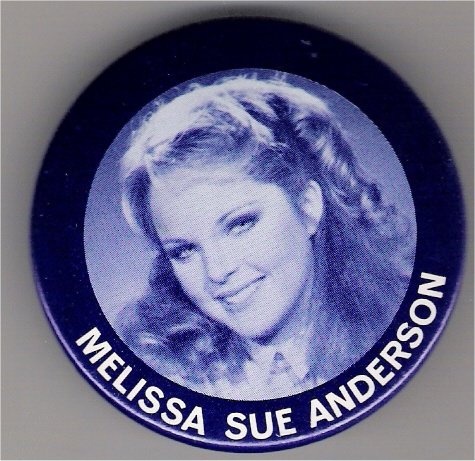 In 1977, I sent Melissa a letter and a bell. Here was her response.
In 1981, I sent her another package with a bell in it. Here was her response and the included photo.
Between going to college and life, I didn't think very much about Melissa during that time. In 2006, my wife had created a fan website for River Phoenix, so I decided to learn about creating websites and created one about Melissa Sue Anderson. I still had all my fan memorabilia in boxes. I collected and recorded shows that Melissa had acted in. Once I had all of the articles, video shows, and photos collected, I started creating the website.
In 2010, I was really excited to learn that Melissa had written an autobiography and she was going to do a book tour to support it. I was contacted by one of the publisher's representatives who gave me Melissa's itinerary of her book signings and media appearances. I created the Melissa Sue Anderson Fan Facebook page to help promote her appearances. I was able to contact Melissa and do a short interview about her book. I saw that Melissa was doing a book signing in Colorado. Since I had family living in Colorado, I decided to go to her two book signings.
Melissa's publishing representative told me that I could do a "meet and greet" with Melissa before the book signing. Melissa and I talked for awhile before the book signing. We were both a little nervous. I am a little shy and quiet. Melissa has similar personality traits. Here are 2 photos from our first meeting.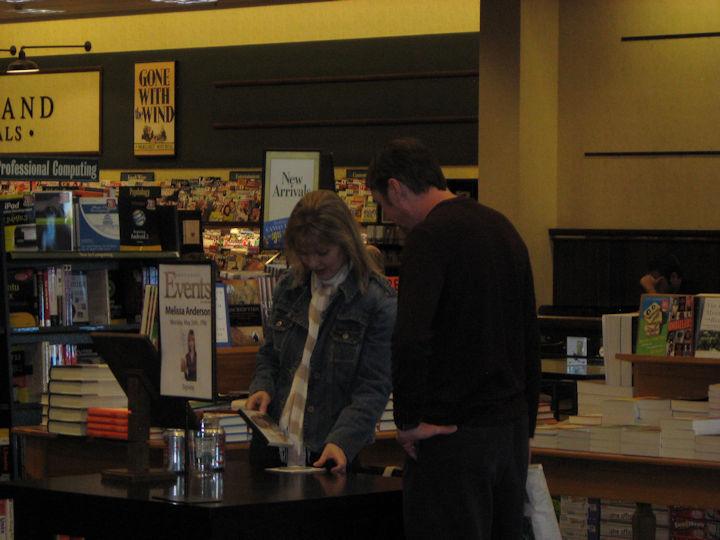 Melissa and I kept in touch through e-mail through the years. Then she was going to do another appearance at Genesee Country Museum in New York in 2014. I saw Melissa's appearances on both days in August, On Sunday August 3, 2014, I went to lunch with Melissa and her daughter, Piper.. I enjoyed sitting next to Melissa at the table and listening to the conversation for 50 minutes. Here are some photos from the lunch.
Melissa and I still keep in contact through e-mail.
---